Sage X3
A modern and scalable platform is a foundational requirement for any B2B eCommerce system, but equally important is a well architected bi-directional integration to your ERP. The commercebuild platform duplicates the powerful and complex Sage X3 data and logic to the digital world to deliver a comprehensive end-to-end customer experience.
By fusing your Sage X3 system with commercebuild, we go beyond integration to maximize your ERP investment. With over 65 Sage X3 tables replicated, commercebuild is the industry standard for ERP to eCommerce integration. Sage X3 database tables are synchronized with commercebuild in real-time, keeping the data in the online environment exactly the same as in the back office.
Data replication between Sage X3 and commercebuild is enabled by powerful and secure database synchronization technology that leverages MS SQL and Oracle change tracking. At no time is data replicated directly from the Sage X3 database tables, and for security all data is encrypted throughout the entire synchronization process. This unique approach delivers best in class data synchronization in a very secure manner, while placing virtually no load on the production Sage X3 environment.
Go Beyond Integration with commercebuild
"More and more of our customers are looking at eCommerce as a means to optimize and streamline their processes and drive incremental revenue. With commercebuild fully integrated into our business management portfolio of products, we will enable them to do just that."
Nick Goode, Executive Vice President – Product, Sage
Industry-best integration between commercebuild and Sage Enterprise Management provides: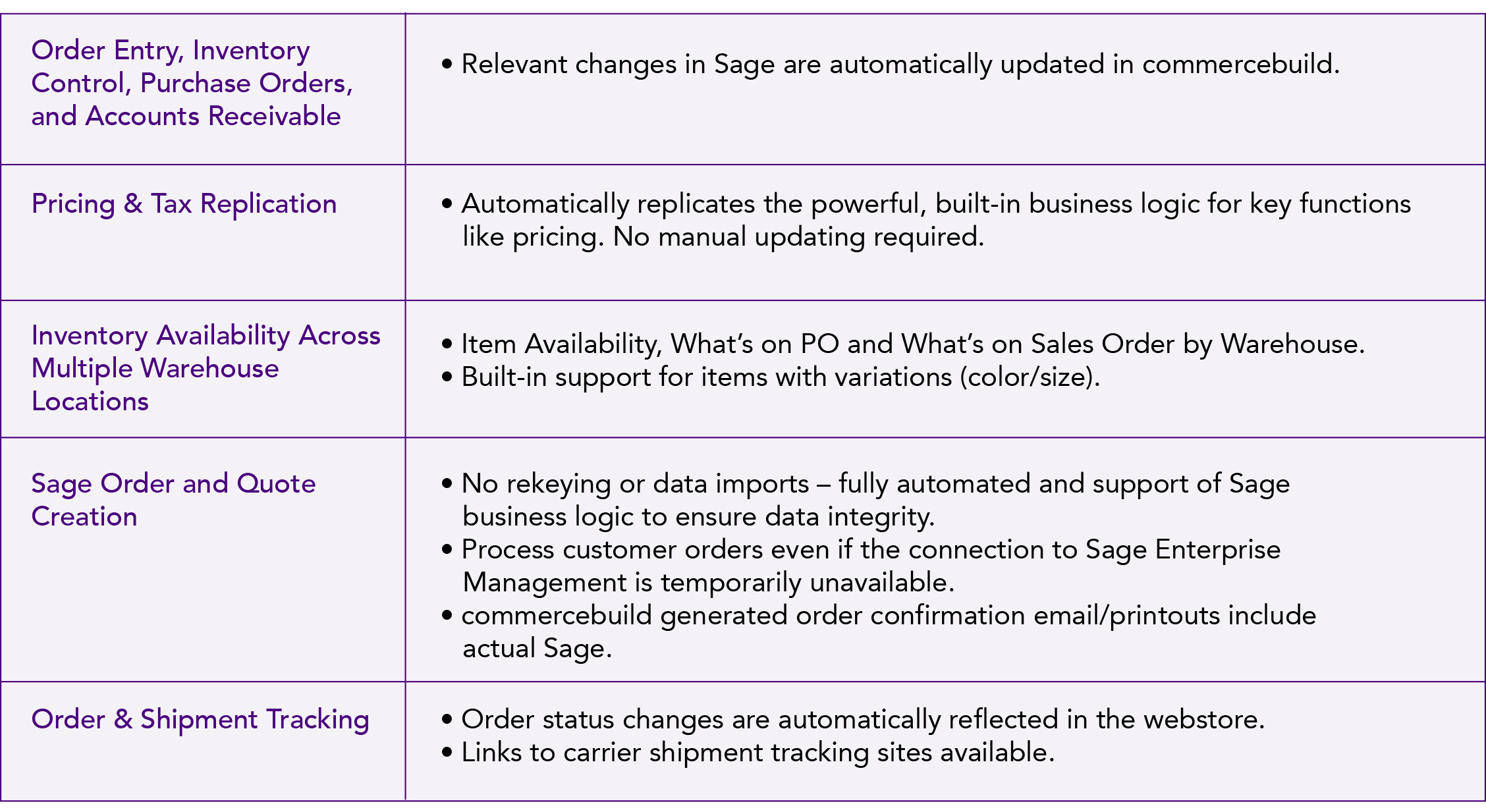 Sage X3 Pricing Logic
It's business critical for a B2B eCommerce system to support the pricing logic of the back-office ERP. When a customer logs in they should be presented with exactly the same pricing that has been configured for them, such as currency, discount levels, quantity price breaks, contract price and sales site pricing.
The commercebuild platform deals with this very complex requirement in a unique and powerful way. Rather than relying on calls to the ERP to get a customer price, and the inherent security and performance risks with such an approach, commercebuild includes a pricing engine that mirrors the pricing engine of Sage X3 Therefore, all customer specific pricing required when a customer is browsing the web store is executed on the site with no need to connect to the ERP. This approach is significantly faster and far more secure than traditional methods of integrating a B2B eCommerce site with an ERP system.
Extensions to Sage X3 Pricing Logic Include
Min and max order quantities
Filter valid price lists for optimum performance
Promotional discounts
Elasticsearch price indexing for B2C sites for sorting, searching and usability
commercebuild natively reproduces Sage X3 price search logic as well as support for:
• Price list priority sequence

• Sale pricing for start/end dates

• Cost-plus factoring and contract pricing

• Tax inclusive/exclusive pricing

• Pricing discounts and surcharges

• Multi-currency

• Units of Measure with UOM conversions

• Quantity discount breaks

• Tables such as SPRICLINK

• Pricing formulae used to derive base or calculated prices

• Price catalogs and massive price data sets
commerce

build and Sage Enterprise Management:
World Class B2B eCommerce